MDS D MOBILE DISPLAY SYSTEM
The MDS D was developed after extensive laboratory and field research with end users that articulated an interest in a more utilitarian system for use in an environment of three to four input sources or less.
They also expressed a desire to trade off overall system cost against more limited requirements for video switching and processing. This discussion resulted in a cost- effective, efficient mobile medical display system for office-based labs and other clinical applications with more limited room and video integration objectives.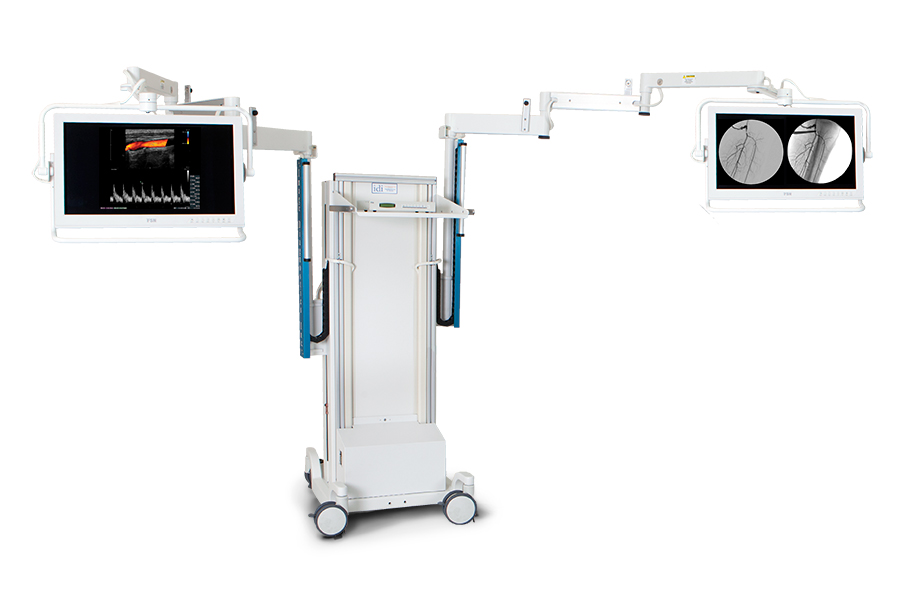 Request a quotation
Or call (877) 304-5434 to talk to a product expert

Compare the alternatives. You'll choose the MDS D!
Benefits:
Mobile
Large High Bright Monitors
Multiple video inputs
Flexible monitor positioning
Moves easily from room-to-room.
Can be setup and ready to use in under one hour after delivery.
Stores with monitors and arms up and out-of-the-way.
Counter-balanced arms with 36" vertical and 82" horizontal reach.
Articulating arms optimize monitor viewing angles for more comfort and less eye and neck fatigue.
Display clinical images at a suitable height, sitting or standing, in a stacked, split or side-by-side mode.
View three different images simultaneously (four with optional interface) – Fluoro, Ultrasound, PACS, hemodynamic and more.
Switcher allows for the easy selection of inputs to be correctly displayed at the touch of a button.
Medical rails on the shelf and MDS front panel provide launching points for accessories such as suction canisters or IV poles.
Monitor storage point is 6'5" off the surgical floor up and out of the way when not in use improving work flow and room turnover.
MDS-D Optional Accessories Request a quotation
Or call (877) 304-5434 to talk to a product expert
Easy monitor positioning

Fully-counterbalanced articulating arms for easy manual positioning with up to 36" (91cm) vertical travel and up to 81" (205.7cm) horizontal extension.
Brilliant 26" High Definition LED Monitors 

High-brightness LED monitors display over-the-table images in wide-screen, picture-in-picture or split screen modes.
Input image from any video source
Multi-modality image viewing from any video source including C-arm fluoro, endoscopy, ultrasound, PACS, patient monitoring.
Simple video switching
Switcher allows easy selection of image sources.
Portable image suite

Combine MDS Dwith your C-arm and mobile table for a completely portable suite for urology, vascular, GI or other applications.
Maximizing space

The MDS D system is the affordable image display solutions for small rooms, low ceiling heights, or construction restrictions that make fixed systems impractical. The MDS D is the perfect solution to these unique opportunities and can help maximize your room potential.
Lower Cost

The MDS D requires no time-consuming site planning or construction expense and has a substantially lower acquisition cost than fixed room 
solutions.
Simple installation
Fixed boom systems require perfect placement and infrastructure changes in order to satisfy every possible current and future clinical application. The MDS D system is portable and does not require changes to existing infrastructure.
Room layout flexibility
The MDS D mobility and positioning versatility allows convenient layout of the OR for virtually any procedure.
Easier scheduling

Fixed room configurations may tie surgeons to specific rooms and may limit scheduling options for OR management. The MDS adapts to the room, or the procedure at hand, and can be configured to be a multi-functional clinical procedure cart.
Open architecture

The MDS D accepts virtually all video sources from a wide variety of medical device companies. The system can be reconfigured if your technology changes, making it easier and less costly to upgrade and keep your OR state-of-the-art devices.
Basic Specifications
Video converter and switcher. 26" LED backlight HD 1080P, 450 nit, medical grade monitors validated for medical use with multiple devices. 22.67"x 12.75" active area.
One shelf 19.75" w x 19"d with bilateral medical rails plus an additional cross-mounted rail.
6" lockable double wheel casters for easy repositioning. Includes cable kits for your C-Arm and pre-wired inputs for DVI, VGA, S Video or Composite external inputs.
Power strip and isolation transformer, 110-120v, 12 amp outlet.
Footprint: 35.9" L x 32.2" W x 75.11 in storage position for transport.
Approximate weight: 830 lbs.
MDS D System Major Components Include:
Dual-Arm Mobile Display Stand
Two 26" high brightness, high definition LED video monitors
Video Switcher
Two protective covers for 26" monitors
Video connections cable kit
The MDS D stand provides a wide-range of vertical and horizontal positioning for convenient placement of video monitors at the desired location during surgical, interventional and diagnostic procedures. The stand includes three equipment shelves for placement of ancillary equipment such as cameras, light sources, printers and more.
Monitor Boom Arms
Dual articulating arms with positioning handles and low-force manual motion for easy video monitor positioning. Fully counterbalanced manual height adjustment of articulating monitor arms with manual pivot and rotation of monitors.
Cable track allows vertical height adjustment of arms without cabling stress.
Equipment Shelves
One built-in, adjustable equipment shelf: 19.75" (50 cm) wide x 19.75" (50cm) depth. Maximum shelf load : 25 lbs. (11 kg per shelf).
Transport and storage
Lockable double-wheeled 6" casters with cable pushers. Rear casters include steering lock position for easy transport.
Ergonomic transport handles, front and rear, for easy transport and positioning.
Built-in storage compartment for monitor protective covers.
Lockable double-wheeled 6" casters with cable pushers. Rear casters include steering lock position for easy transport
Electrical
Built-in isolation transformer and AC power strip for connection of system video components and up to five available outlets for connection of ancillary equipment.
Choice of AC power type (must specify with order):

North America Version: For connection to 110- 120VAC, 60 Hz, 15 amp outlet. Includes built-in 1,800 Watt isolation transformer and 15 amp power cord and hospital grade plug. Maximum allowable combined load on MDS power strip = 12 amps.
EU Version: For connection to 220-240 VAC, 50 Hz, ~10 amp outlet (must specify country plug type). Includes 1800 Watt isolation transformer, power cord and plug. Maximum allowable combined load on MDS power strip = 7.5 amps.
26" High Definition, High-Brightness LED Video Monitors
LED backlight technology for very high brightness. Full multi-modality with multiple inputs. Switchable source video display and single image, picture-in-picture, or split-screen mode
Resolution: 1920 x 1080 • Aspect ratio: 16:9
Brightness: 700 cd/m² maximum, 500 cd/m² stabilized
Weight: 18.2 lbs (8.27 kg)
Power consumption: 150 watts • Picture size: 21.6" x 13.5" (550 x 344 mm), 25.5" (649mm)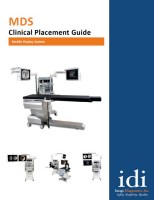 MDS Clinical Placement Guide[
/one_third]