Radiation Shield, Exam Light and Monitor Mount on wheels
Compass Flex shown with IDI's ISR interventional / endovascular imaging table and optional 32" UHD 4K monitor
The Compass Flex™ Mobile Suspension System
Radiation Shield, Exam Light and Monitor Mount on wheels
The Compass Flex™ Suspension System provides the tools you need in your mobile imaging suite. Two flexible arms provide radiation shielding and lighting, and the central post can accommodate up to two video monitors. Best of all, the Compass Flex Suspension System is mobile, making it a low-cost, instant addition to any C-arm set up.
Until now, there has not been a mobile suspension system that enhances mobile C-Arm imaging procedures without disrupting workflow.
The Compass Flex improves staff access and minimizes impact on workflow in two ways:
Long flexible arms, typically found only in ceiling-mounted systems, allow the Compass Flex to be safely positioned further away from the imaging table than typical floor-based stands.
An adjustable height column allows the flexible arms to be elevated above head height. Together these positioning features give staff improved table-side patient access.
Together these positioning features give staff improved table-side patient access.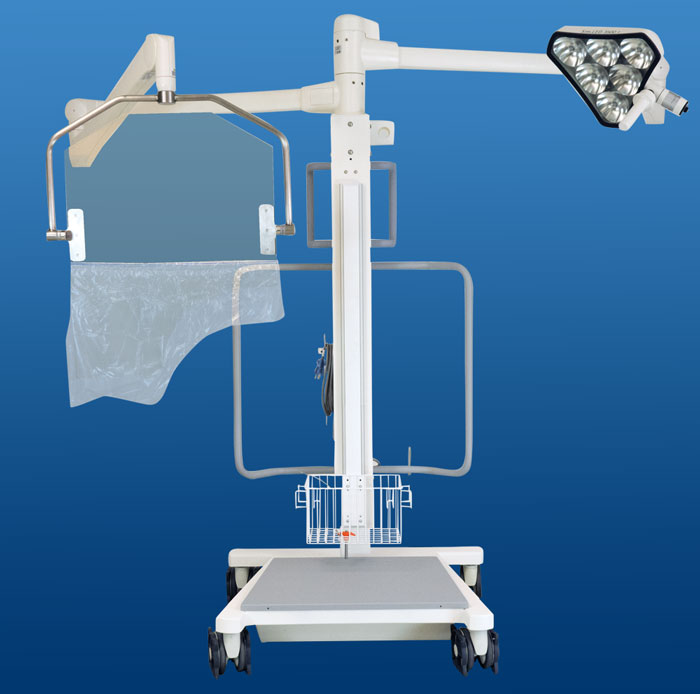 Compass Flex includes the Compass Flex base, Compass Contour Radiation shield, light head and utility track.
Why the Compass Flex is a better suspension solution
IT'S MOBILE
The mobility of unit allows for set up in any room.
LOWER COST
No special power requirements, wiring or installation.
INTEGRATED RADIATION SHIELDING
The Compass Contour Radiation Shield with 0.5mm lead equivalency adds more protection from direct and scatter radiation without obstructing the view of or access to your patient. The articulating suspension arm allows you to place the shield exactly where you need it.
INTEGRATED EXAM LIGHT
The SIMEON Sim.LED 4500 Surgical Light provides adjustable light output up to 100,000 Lux, good depth illumination, a uniform light field, smooth positioning, and low heat output/ power consumption.
THREE MONITOR OPTIONS
32" HD or 4K or dual 27" HD.
WARRANTY
One year warranty for labor and parts.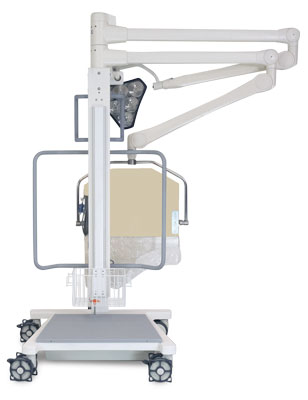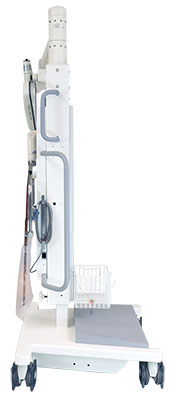 Compass Flex storage positions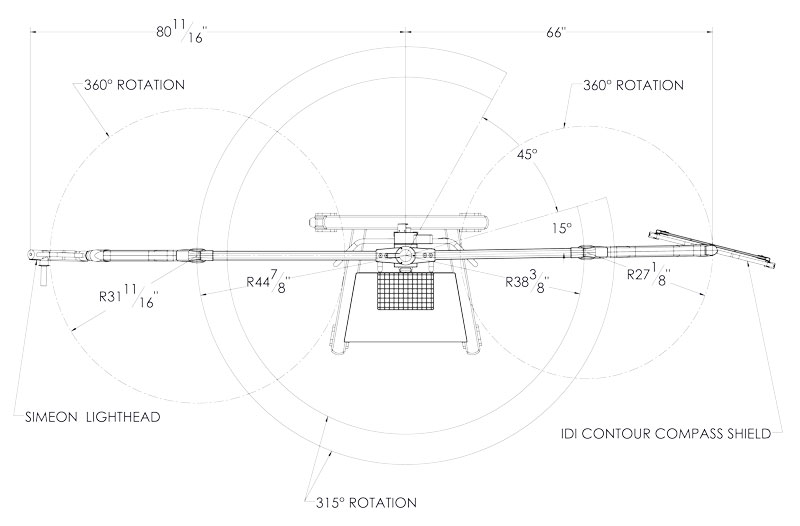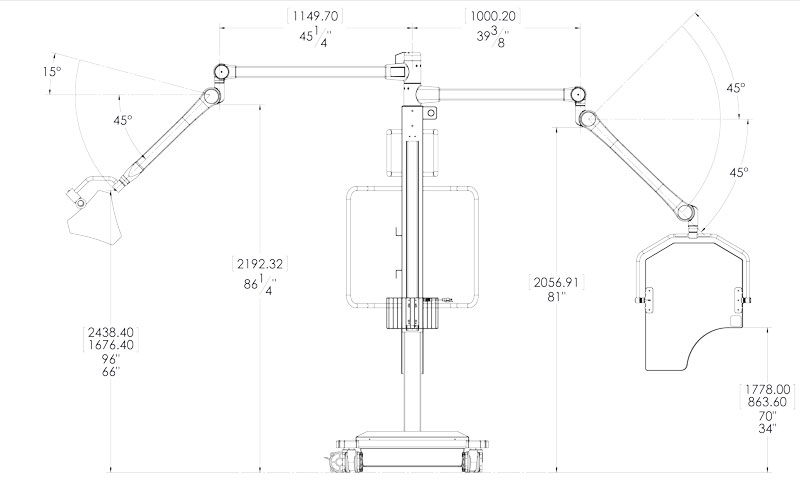 Storage / Transport Positions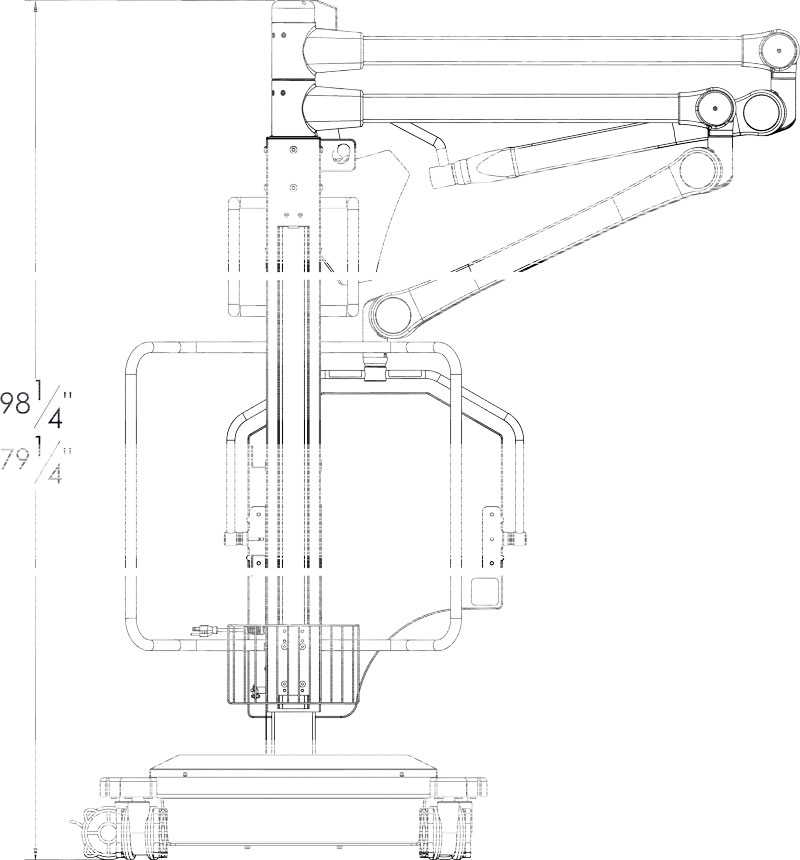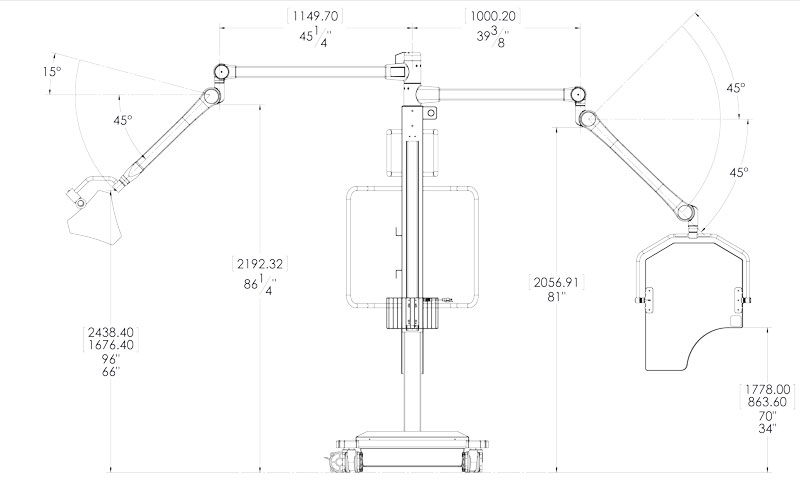 Specifications
Includes:
Dual arm Compass Flex Suspension System • Compass Contour radiation shield .5mm lead equivalency
Sim.LED 4500 Surgical Light – 25,000 – 100,000 lx – Color Temperature 4500K
Electrical specifications:
Mechanical specifications:
19" height adjustment
Steer lock caster for ease of transport
Cable storage basket
Warranty:
One-year parts and labor
Optional column-mounted monitor
The monitor is available to purchase at the time of order or can be added at any point during the life of the product.
Monitor video inputs
A280-1189 – no monitor
A280-1191 – 32" 4k Monitor

DVI or HDMI or DisplayPort