Surgical Lights • Operating Room Lights • OT Lighting • Surgery Lighting • OR Lighting • OR Lights • Surgery Lights
Sim.LED 7000

Premium lighting for challenging procedures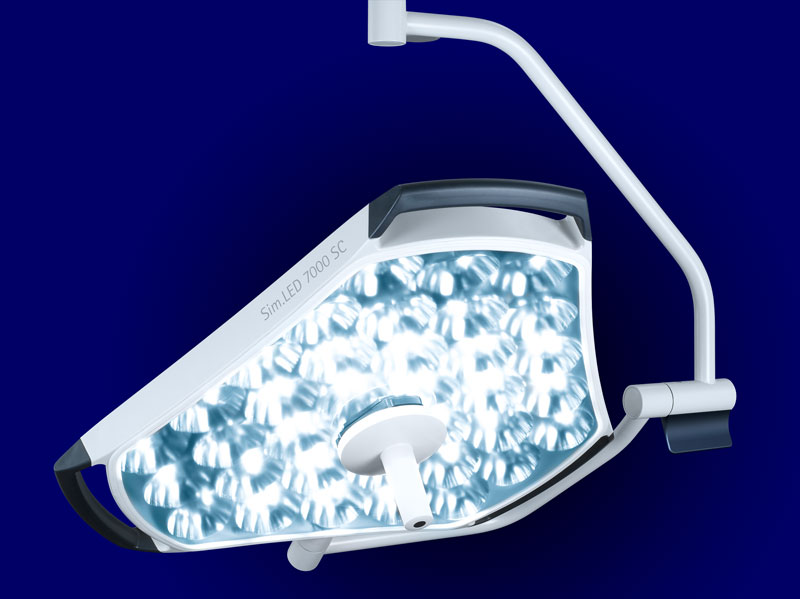 HighLine Surgical Lights – SIMEON'S BEST
Demanding tasks require superior solutions. SIMEON HighLine surgical lights give you all the benefits of cutting-edge LED technology in a very compact and durable package. Controls are intuitive. Surfaces are anti-bacterial. The aluminum body resists impact damage while improving LED heat transfer. The glass face dramatically improves long term performance under repeated exposure to harsh cleaners. Lights are available in single and multi-color versions. The SIMEON triangle design offers the maximum light-emitting surface while allowing for two light heads to nest side-by-side providing a single large light field over the patient.
Premium surgical lighting for challenging procedures
Technology: Patented reflector technology delivers uniform light intensity, a large depth of focus and an outstanding level of shadow free illumination.
Durability: Glass front face – will not cloud over time. Aluminum Chassis for superior heat
transfer and LED longevity – rugged construction, 60,000+ hour life span!
Security: 10 year warranty!*
Call 978-829-0009 to talk to a product expert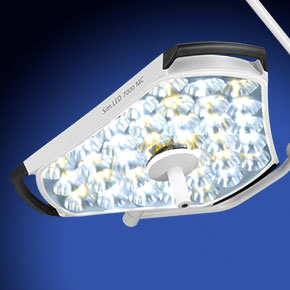 Multi-color and single-color lights
At 3,500, 4,000, 4,500, 5,000 or 5,500 kelvins, HighLine multi-color (MC)  lights achieve a consistently high Ra > 96 at any color temperature setting.
The HighLine single-color (SC) lights with cutting-edge monochromatic white-light LEDs ensure ideal lighting conditions in any OR situation.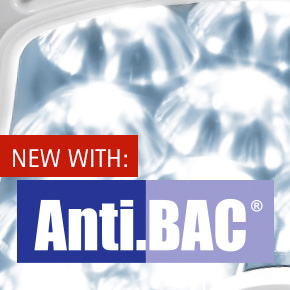 Innovative antibacterial coating
Highest level of antimicrobial efficacy (log 5.9 for Escherichia coli and Staphylococcus aureus)
Reduces germs by > 99.999 %
No potentially physiologically harmful nano-silver or free silver ions
Antimicrobial effect in accordance with ISO 22196 (JIS Z 2801)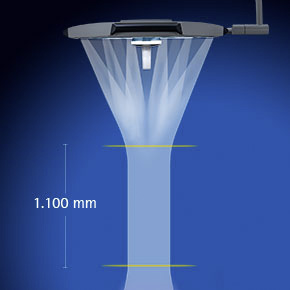 RSRS: For light without shadows
Reflector Shadow Resolution System (RSRS) for a unique light quality: large light-emitting surface, shadow-free light, for ideal illumination entirely without sensor systems or automatic adaptation of the light values.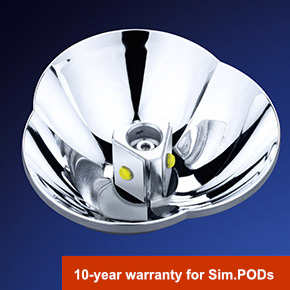 Patented reflector technology
Top light performance
Outstanding shadow resolution
Unsurpassed light-emitting surface
Integrated ambient light for minimally invasive surgery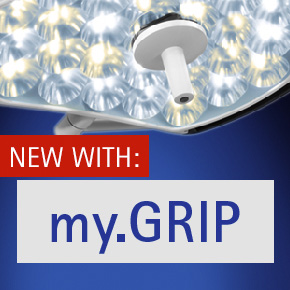 STERILE my.GRIP control
Sterile control of two operating functions in parallel and directly on the sterile handle
Up to 12 freely selectable combinations
Additional step for optimal hygienic conditions
Easily programmable using cardanic control panel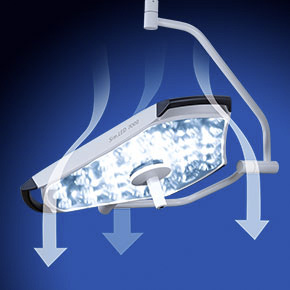 Efficient
Very low energy consumption
Unparalleled energy efficiency – low power consumption
Excellent laminar flow values
Environmentally friendly thanks to maximum energy efficiency with optimal heat management
Very long service life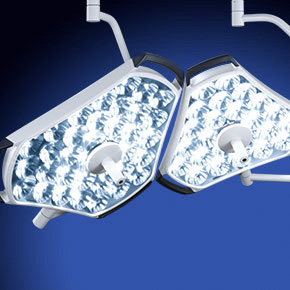 Revolutionary triangle design
The unique SIMEON triangle design offers a maximum light-emitting surface and an optimal depth of illumination.
Made of lightweight aluminum, the light body and suspension system allows for fast and smooth positioning.
The unique light head design allows positioning of lights directly over the surgical field virtually without a gap.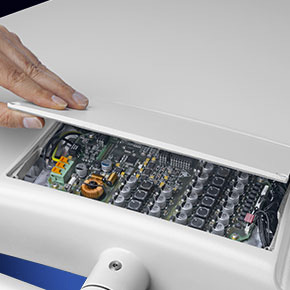 Service, maintenance and expansion-friendly
Easy upgrade to the latest LED generation
Easily incorporated into integrated systems via Sim.INTERFACE
System expansion via Sim.CAM camera and Sim.SCREEN monitor mounting arm systems
Upgradeable service software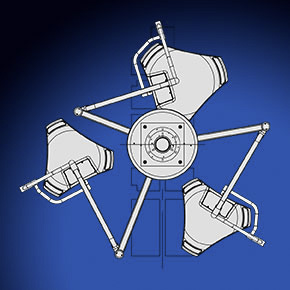 Cardiac OR Triple Combination
A triple combination of HighLine Sim.LED 7000/7000/5000 brings the perfect light for any cardiac intervention.
TECHNICAL DATA
SIMEON HighLine
 Sim.LED 7000 SC
(Single Color)
 Sim.LED 7000 MC
(Multi-Color)
Central illumination intensity at a distance of 1 meter [lx]
 160,000
 160,000
Electronical dimmability from/to [lx]
 48,000 – 160,000
 48,000 – 160,000
Color temperature [K]
 4,500
 3,500/4,000/4,500/
5,000/5,500
Focusable field size d10 at a distance of 1 meter [mm]
 180 – 300
 180 – 300
Electronic field adjustment
 yes
 yes
Color rendering index Ra in every color temperature setting
 96
 96
Red rendering index R9
 96
 94
"Skin color" rendering index R13
 98
 98
Illumination depth without refocusing (L1+ L2) at 20 % [mm]
 1,100
 1,100
Illumination depth without refocusing (L1+ L2) at 60 % [mm]
 500
 500
Light head weight [kg]
 18
 18
Light head power consumption [W]
 66
 60
LED life time [h]
 > 60,000
 > 60,000
Temperature increase at head height
 < 1°C
 < 1°C
Light-emitting surface
 2,940 cm²
 2,940 cm²
Sim.CAM
 optional
 optional
Approval
 CE
 CE
Tolerance ±10%
Technical specifications are subject to change