ASPECT 100-4T 
Interventional / Endovascular Table with Trendelenburg tilt
Now with Wireless Table Side & Pendant Hand Controls

The 100-4T
is designed to be the preferred imaging solution during interventional and vascular procedures.
The 100-4T provides longitudinal tabletop float of 32 inches (81.2 cm) in a very compact platform enabling comprehensive coverage throughout the anatomical imaging area without C-arm movement – and does so in a table with an ideal overall length of only 84 inches.
With the addition of the optional head extension, the imaging area is increased to 80″ (203cm).
A high-quality carbon fiber tabletop and 2" thick tabletop pad deliver minimal total x-ray attenuation
Elevate and tilt functions are fully motor driven – no hydraulics – lower cost of service and no dangerous oil leaks!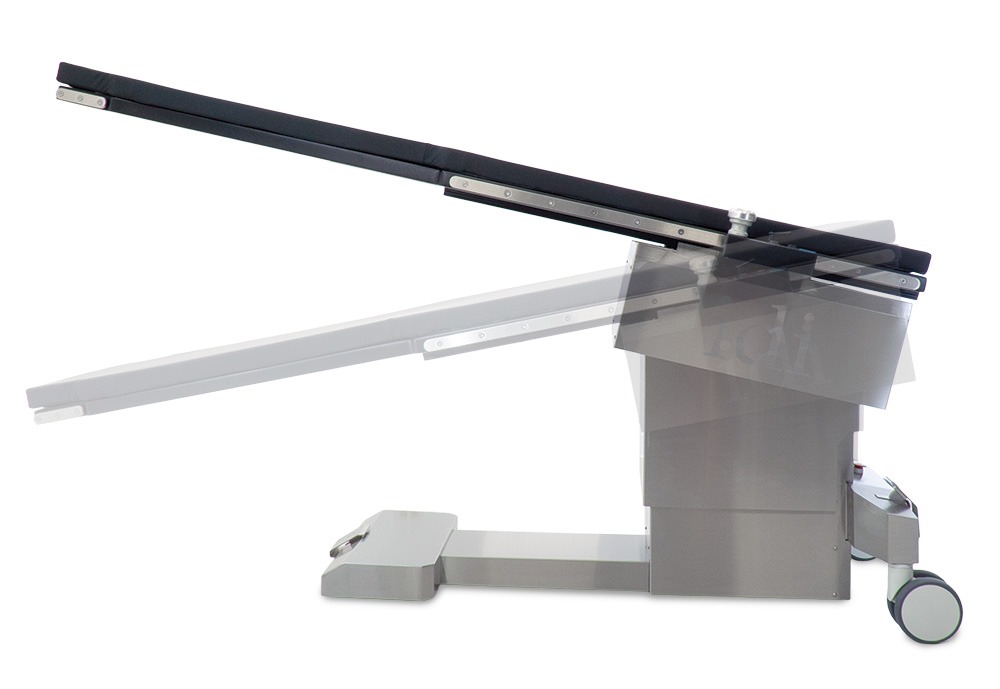 ▲ Trendelenburg tilt: ±12°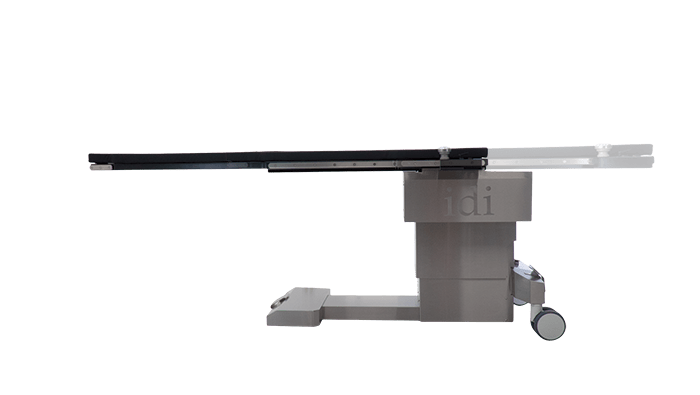 ▲ Longitudinal Travel: 32″ (81.3cm)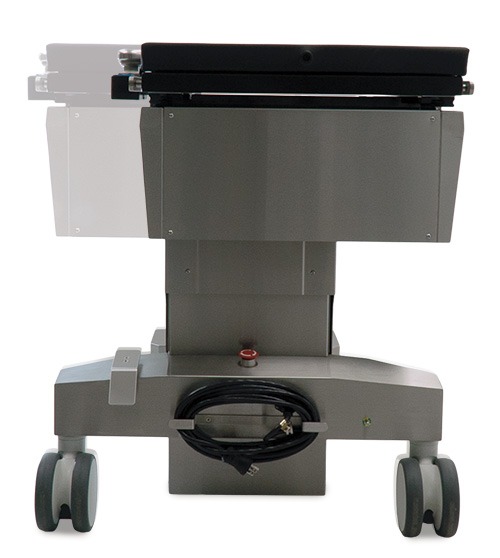 ▲ Transverse travel: 8″ (20.3cm)
The 100-4T is an affordable solution for C-arm imaging in endovascular and other interventional procedures where a 4-way floating tabletop and trendelenburg tilt is desired.  The 100-4T represents the ideal balance between performance and price in IDI's Aspect series table line.
4-way Floating Tabletop

600 lb capacity
80″ of imaging area with headrest
Trendelenburg Tilt ( ±12°)
Transverse Float 8″ (20.3cm)
Motorized Elevation 13″ (33cm)
Longitudinal Travel 32″ (81.3cm)
Stainless steel covers
Three year parts and labor warranty
Call 978-829-0009 to talk to a product expert
WHY THE 100-4T STANDS OUT FROM THE COMPETITION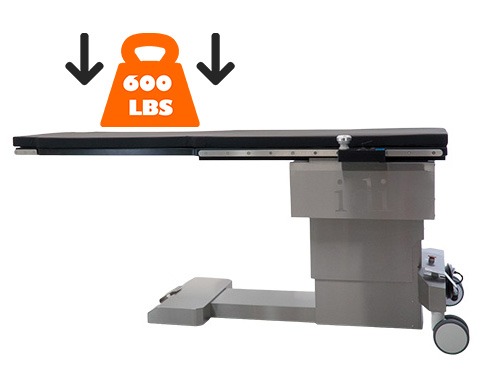 600 pound capacity – Standard
No additional costs or up-charges
---

Unprecedented 80″ imaging area
(with optional headrest)
Allows full body imaging of a 6′-8″ patient
---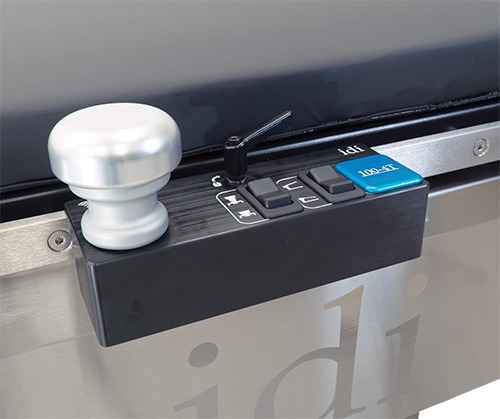 Wireless table control at your fingertips
Panning and motorized functions are combined into one easy-to-use wireless control handle. No need to switch between a pendant and panning control
---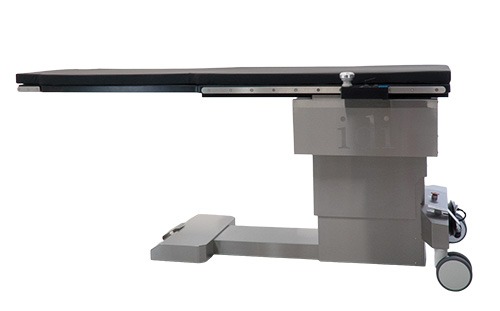 Low-dose table top and pad
Reduces overall dose to patient and staff
---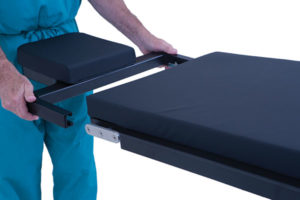 Mini rail system on head end of table
Install or remove the headrest or extensions in seconds – no additional accessories required.
---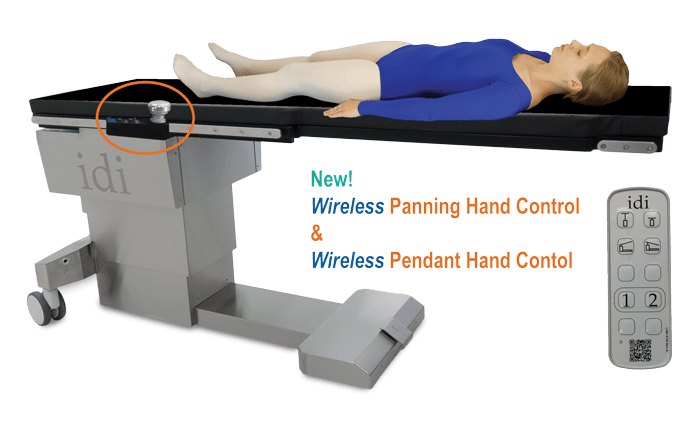 Wireless control & full battery operation for cordless floors
and  instant on functionality when batteries run down and table is plugged in.
No waiting for table charge to build.
---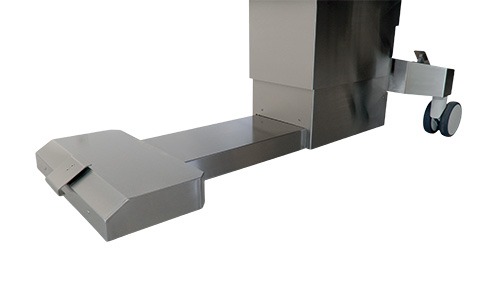 The lowest profile base in the industry
For improved C-Arm access
---
100-4T OPTIONAL ACCESSORIES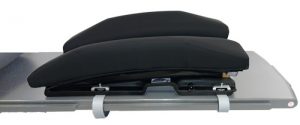 Curve Spine Frame C000-1750
Provides maximum lordosis for Laminectomy, 
Decompression, Disc Surgery and Microdiscectomy 
procedures. Includes hand crank. Patient supports are adjustable to fit different patient sizes.
---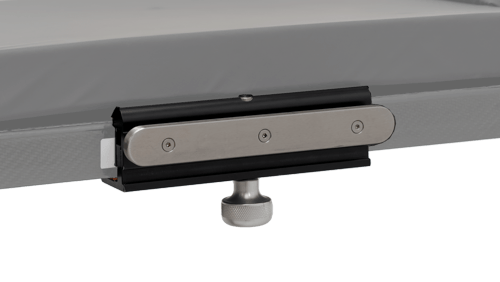 Clamp-on Accessory Rail A100-1007 Rail is 8.5″ long x 3/8" thick x 1-1/8" high..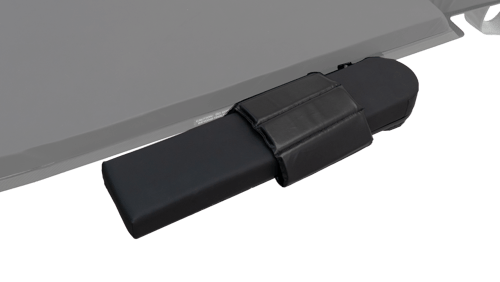 Arm Board A310-056 Quick-release, rail mounted. Requires Clamp-on Accessory Rail A100-1007
---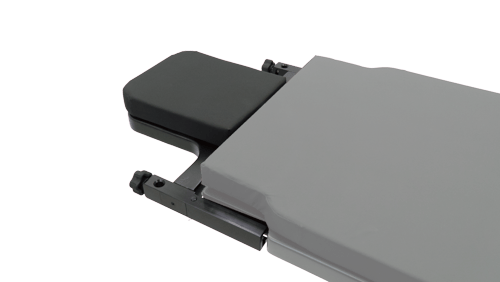 Headrest Extension A100-2317 Articulating carbon fiber headrest, Attaches to the imaging end of the table. Requires the table to have an X100-2492 style tabletop. 23-1/8" wide x 12" long.
---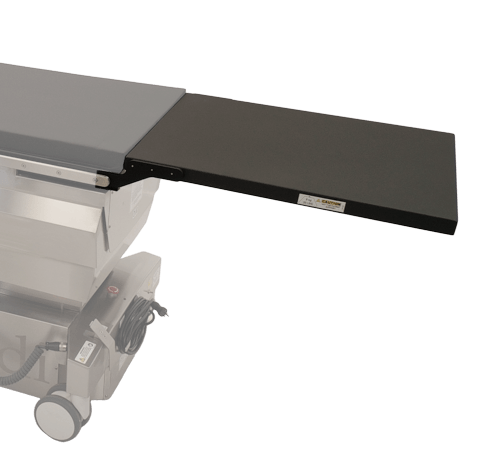 Tabletop Catheter Tray Extension A100-1769 24.25" wide, 30" long. Mounts to pedestal end of table only. The maximum weight this extension can support is 20 LBS or 9 Kgs.
---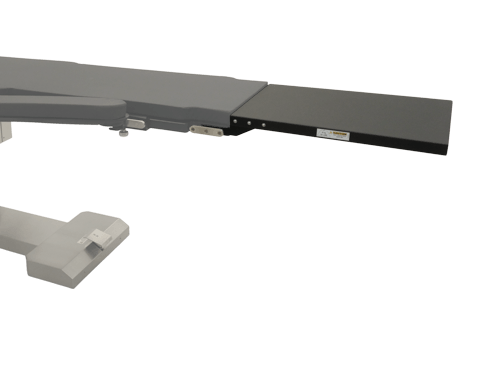 Tabletop Catheter Tray Extension A100-2322 20 3/4" x 27" long. Mounts to imaging end of table only. Requires tabletop X100-2492. The maximum weight this extension can support is 20 LBS or 9 Kgs.
---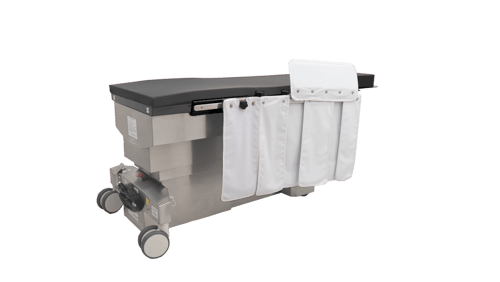 Radiation Shield A610-051 Articulating, rail-mounted. Attaches to table side-rail at base end of table, either side, adjustable. Articulating joint allows shield to conform to table contour. Snap-on upper section above level of tabletop is removable.
---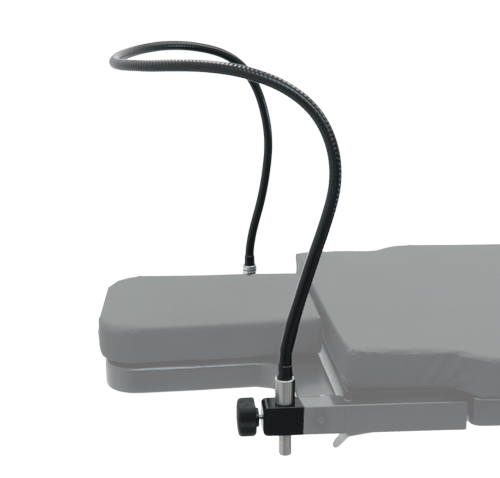 Anesthesia Screen Holder C000-0965 Flexible "hoop" style. Mounts directly to A100-2317 Headrest Extension. For use on accessory rails – a pair of rotating side rail clamps, part number C000-0746, are required. Rotating side rail clamps and clamp-on accessory rails are not required if table is ordered with the A100-2317 Headrest Extension.
---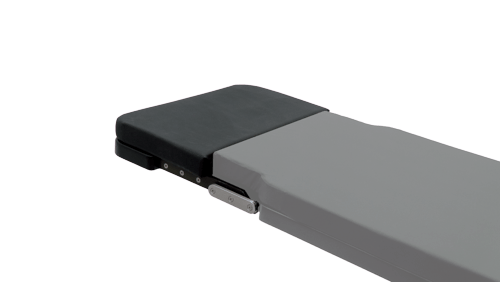 Peripheral Extension A100-2486 Carbon fiber extension, mounts to imaging end of table only. 22″ wide,, 12" long. Maximum weight for this extension is 25 lbs or 11.4 Kgs. – Requires tabletop X100-2492
---

IDI Medical Grade Anti-Fatigue Mat C000-1181 24"(610mm) x 66"(1676mm) x ¾" (19mm) Heavy-duty, one-piece construction for high-traffic areas. Safe & non-toxic, contains no plasticizers and will not leach over time. Durable brushed texture. Surface is puncture & abrasion-resistant. Antimicrobial properties for added protection. Stain & chemical resistant. No-curl, beveled edges that reduce tripping potential. Non-slip bottom certified by the National Floor Safety Institute.
---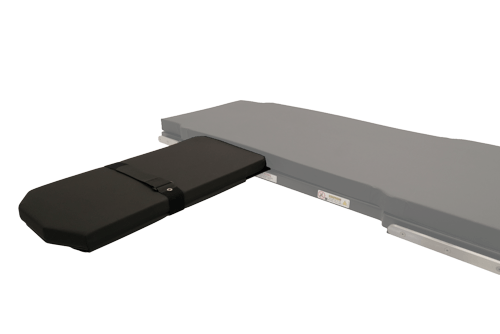 VAB Armboard A100-2244 Carbon fiber, one-piece, extra wide armboard for vascular access procedures (body section slides under patient/table pad). Includes strap and pad.
100-4T TABLE MOTIONS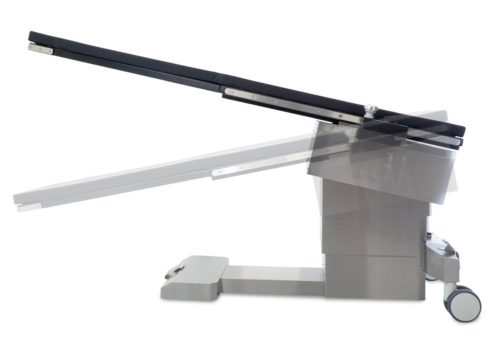 Trendelenburg tilt: ±12°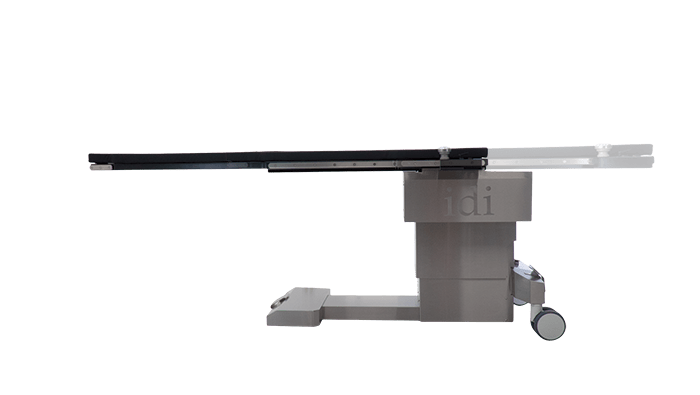 ▲ Longitudinal Travel: 32″ (81.3cm)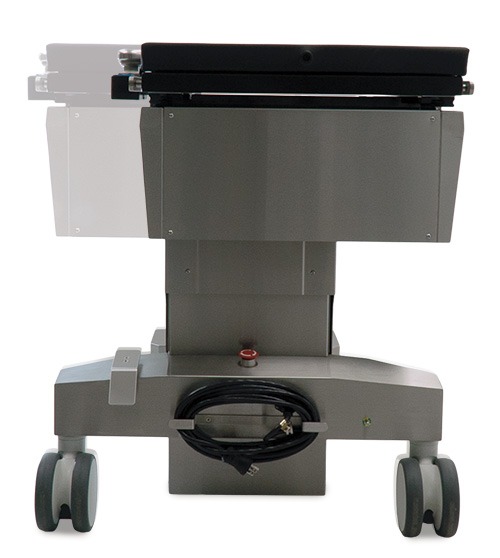 ▲ Transverse travel: 8″ (20.3cm)
100-4T BROCHURES
100-4T SPECIFICATIONS
Table movements
4-way manual floating tabletop with wireless panning hand control.
Longitudinal tabletop travel: 32" (81.3 cm).
Transverse tabletop travel: 8" (20.3 cm).
Trendelenburg Tilt: ±12° with automatic "stop-at-level" positioning and longitudinal safety lockout when in trendelenburg.
Table elevation: 30" – 43" (76 -109 cm) without tabletop pad. 32″ – 45″ (81 – 114 cm) with pad
Transverse float is available regardless of tilt or roll position.
Dual-wheel caster system. Simple central locking system for easy transport and positioning
Automatic locking of longitudinal float when table is not level
Imaging Area
Imaging area at full longitudinal extension = 80″ (203cm) with optional headrest attached and 68″ (173 cm) without optional headrest attached.
Tabletop construction
Carbon fiber, foam core, low x-ray attenuation
construction
Standard accessories
Tabletop Pad: 2″ thick flexible polyurethane foam.
Wireless panning hand control, rail-mounted
Wireless pendant hand control
Patient Restraint Straps (2)
Tabletop dimensions
Standard tabletop dimensions: 19.5"/22"/24" X 84"
(49.5cm/55.8cm/60.96cm x 213.3 cm). #X100-2492

Weight:
Patient weight capacity: 600 lbs. (272 kg) with full table functionality at max. patient weight.
Table weight: 605 lbs. (274 kg).
Electrical:
120VAC < 10amps, 230V optional.
Full operation from internal battery – includes battery status indicator. Battery capacity 14Ah
20' (6 meter) power cord.