Or call 978-829-0009 to talk to a product expert
Features
Cantilevered, carbon fiber tabletop with low x-ray attenuation

Tabletop dimensions:

21″/30″ x 80″ (52/76 x 203 cm)

Unobstructed imaging area: 72" (182.9 cm)

Motorized Elevation 27.9" – 37.7" (71 – 95.8 cm)

4-way manual floating tabletop with panning hand control

Longitudinal tabletop travel: 40" (101.6 cm)

Transverse tabletop travel: 10" (25.4 cm)

Locking swivel casters
Patient weight capacity: 450 lbs. (204 kg)

Table weight: 490 lbs. (222 kg)

120 VAC or 230 VAC operation (must specify on order)

Battery back-up operation

Warranty: 3 years parts, 1 year labor
Accessories included:
Tabletop Pad

Patient Restraint Straps
Call (877) 304-5434 to talk to a product expert
TABLETOP DIMENSIONS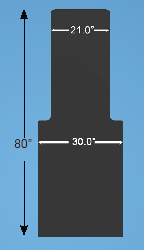 100-4 OPTIONAL ACCESSORIES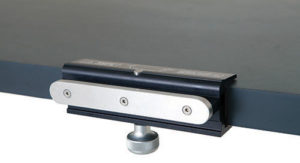 Clamp-on Accessory Rail A100-2218
Rail is 8.5″ long x 3/8" thick x 1-1/8" high.
---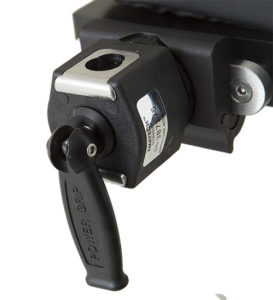 Side-rail clamp  C000-0746
Rotating, with socket for attachment of accessories with 5/8 inch circular post.
---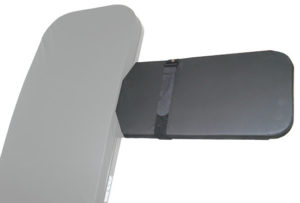 VAB Armboard  A100-2244
Carbon fiber, one-piece, extra wide armboard for vascular access procedures (body section slides under patient/table pad). Includes strap and pad.
---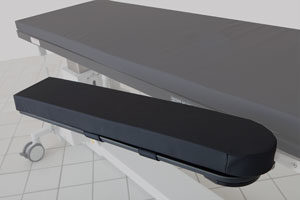 Arm Board  A310-056
Quick-release, rail mounted.  Requires Clamp-on Accessory Rail A100-2218.
---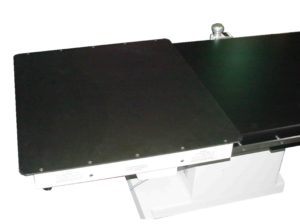 Tabletop Catheter Tray Extension A100-814
Mounts to pedestal end only.

---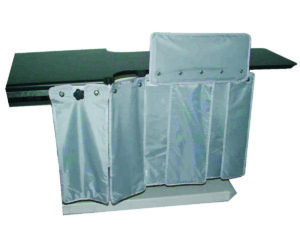 Radiation Shield  A610-051
Articulating, rail-mounted. Attaches to table side-rail at base end of table, either side, adjustable. Articulating joint allows shield to conform to table contour. Snap-on upper section above level of tabletop is removable.
---

IDI Medical Grade Anti-Fatigue Mat C000-1181
24"(610mm) x 66"(1676mm) x ¾" (19mm)) Heavy-duty, one-piece construction for high-traffic  areas. Safe & non-toxic, contains no plasticizers and will not leach over time. Durable brushed texture. Surface is puncture & abrasion-resistant. Antimicrobial properties for added protection. Stain & chemical resistant. No-curl, beveled edges that reduce tripping potential. Non-slip bottom certified by the National Floor Safety Institute.

---

Arm Board  A310-059
Carbon fiber, shoulder mount (attaches by sliding thin section under patient/table pad), flat. Includes pad and strap.
100-4 SPECIFICATIONS
Table movements
Motorized Elevation
Manual 4-Way Floating Tabletop
Features
Cantilevered, carbon fiber tabletop with low x-ray attenuation
Tabletop dimensions:

21″/30″ x 80″ (52/76 x 203 cm)

Unobstructed imaging area: 72" (182.9 cm)
Motorized Elevation 27.9" – 37.7" (71 – 95.8 cm)
4-way manual floating tabletop with panning hand control
Longitudinal tabletop travel: 40" (101.6 cm)
Transverse tabletop travel: 10" (25.4 cm)
Locking swivel casters
Patient weight capacity: 450 lbs. (204 kg)
Table weight: 490 lbs. (222 kg)
120 VAC or 230 VAC operation (must specify on order)
Battery back-up operation
Warranty: 3 years parts, 1 year labor
Accessories included:
Tabletop Pad
Patient Restraint Straps ID410 Width Extender Board  (For support of patient arms. Included with 18″ wide tabletop version only).